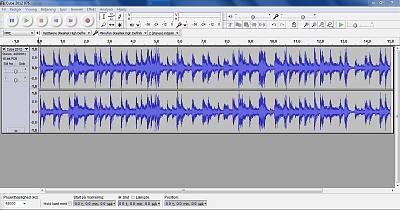 Audacity needs no introduction. It's the best known free, open source audio editor / recorder / converter. It's been around since 2000, and it comes with build-in effects, analyzing tools and sound generators. It can act as a host for effects from VST-, Nyquist- and LADSPA-plug ins.
If you install the FFmpeg for Audacity on Windows library, you can even load the audio from video clips directly into Audacity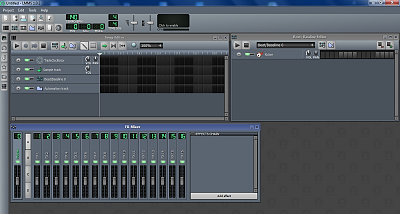 LMMS (Linux MultiMedia Studio) is a free, open source DAW (Digital Audio Workstation)
Don't mind the name. LMMS works just fine in eg. Window7 64 bit.
LMMS includes:
Song Editor

Compose your songs

Beat and Bassline Editor

Create beats and basslines

FX mixer

With a total of 64 FX channels

Piano Roll

Record your midi keyboard and edit the patterns and melodies

Automation Editor

Control the values of Volume, Pan, Pitch etc. during the song
LMMS has support for midi keyboards, VST(i) and LADSPA effect and instrument plug-ins, and out-of-the-box it comes with several synthesizer emulations.
Here're 3 quick FAQs to get you started:
Q: How do I import audio into LMMS
A: LMMS works with audio (.wav) as a sample, so you double click on the insertion point for the Sample track timeline in the Song Editor, navigate to your audio-file and double click on it.
Q: How do I record an VST instrument in LMMS
A: The first time you want to record a VST-instrument, you have to install a soundfont like GeneralUser GS. When that's done follow these steps:
Click on the Instrument Plugins Tab
Drag the Sf2 player to the song editor
Click on it an in the new default preset window go to Midi
In the Enable midi input section, click on the icon and choose your external keyboard
In the Enable midi output section, click on the icon and set your output (eg. Microsoft GS wavetable synth).
Double click on the insertion point on the Sf2 timeline in the Song Editor.
Hit the red record button and start playing.
Q: How do I turn down the volume of the metronome in LMMS
A: Go to the LMMS work folder, to the samples/misc folder. Open metronome01.ogg in Audacity and use Effects … Normalize to reduce the volume with eg. -20 dB. Substitute this file with the original one (Do make a backup of metronome01.ogg first)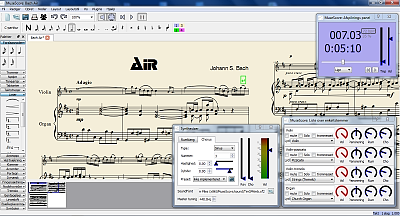 If you're more comfortable with writing your soundtrack as sheet music in a dedicated notation program, MuseScore is a professional-level score writer with a 0$ price-tag (free and open source) that can be used on Windows, Mac, Linux and Open-/Free-/DragonFly-BSD.
MuseScore is WYSIWYG, there's no limitation as to the number of staves or the length of the score, and you can even output your score directly to audio wave (wav, flac, ogg and mp3).
In MuseScore you can enter the notes with the mouse, with keyboard shortcuts or with a midi keyboard in combination with mouse/keyboard. Unlike Sibelius and Finale, MuseScore only offers step-by step entry; so at present, there's no real-time recording available.
MuseScore has some impressive import / export capabilities:
| | | | |
| --- | --- | --- | --- |
| | Import | Export | Type |
| .mscz & .mscx | + | + | The MuseScore format |
| .xml | + | + | The universal standard for sheet music (MusicXML) |
| .mxl | + | + | Compressed MusicXML |
| .mid, .midi & .kar | + | + | Midi format |
| .ly | - | + | LilyPond format |
| .md | + | - | MuseData format |
| .cap | + | - | Capella format |
| .bww | + | - | Bagpipe Music Writer format |
| .mgu & .sgu | + | - | Band-in-a-Box format |
| .ove | + | - | Overture format |
| .wav | - | + | Audio wave format |
| .flac | - | + | Audio wave format |
| .ogg | - | + | Audio wave format |
| .mp3 | - | + | Audio wave format |
Other than that you can print and view your score as: .pdf, .ps, .png and .svg
MuseScore is translated in 47 languages and is supplemented by an array of plugins to automate tasks and otherwise extend the capabilities.
To get you started, you can watch some of the many tutorials on Youtube, read the integrated 100 page Handbook (pdf) or simply ask a question in the MuseScore Forum