XMedia Recode - The free video & audio converter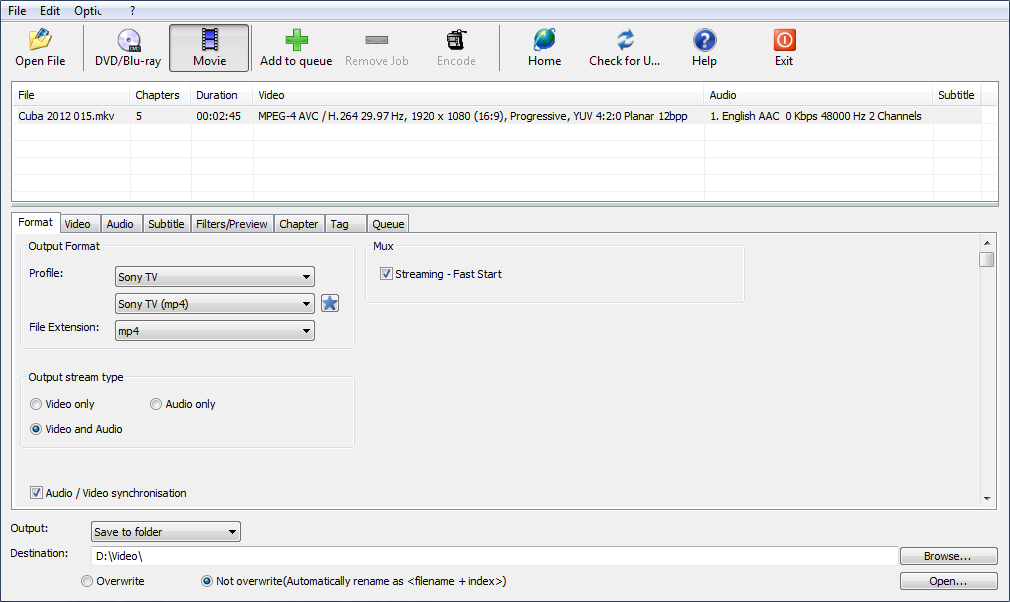 It's a bit tragic-comic how people will pay good money for a descent converter, when they can get an excellent one for free.
The XMedia Recode is free (donationware), and with loads of presets and a huge array of settings, it can be used to target either a specific device, a specific format or tweaked to another specific need. You can even use the internal Bitrate-Calculator to target a specific file size for your output.
The output is free of any watermarks, and there's no fee or restrictions whatsoever for the use.
Installation
The installation is straight forward. You can either download the 7 Mb installation file or you can opt for the 10 Mb portable zip-version that requires no installation.
Interface
XMedia Recode has a logical layout. In fact, if you only need to convert a video file for the use of a specific device, you only have 2 choices to make: The Device (Producer), and the Format (Model). It doesn't get much easier than that.
If you want to add features, adjust parameters or use filters for the output, you can use one of the 6 tabs: Video, Audio, Subtitle, Filters/Preview, Chapter and Tag.
Features
XMedia Recode is based on the FFMPEG ao. libraries, so the program can import almost any video file you throw at it. You can import the files either via the Open File button or simply by dragging the file onto the program. You can even drag and drop several files at one time to make a batch convert.
Once you've dragged the video onto XMedia Recode, you can either configure the output by using one of the many presets or you can use a custom profile and adjust the output through one of the tabs. After that, you just hit "Add to queue" and "Encode".
With XMedia Recode you can perform numerous operations on both video and audio. The average user probably won't need to adjust most of the parameters; so I'll just mention some of the possibilities:
Add/Edit chapters to your video file

(Provided that the container supports Chapters)

Hardcode subtitles

Supports: *.srt, *.ass, *.jss, *.js and *.ssa

Insert Metadata tags

Extract audio from video

Just chose "Audio only" on the start-up screen

Use a huge array of filters

Crop, Flip, Rotate, Deinterlace, Sharpen, Stabilize, Denoise, Change resolution, Remove logos/watermarks, Adjust colour (Brightness/Contrast/Gamma/Saturation), Fade in/out etc.
Conversion speed
I tested XMedia Recode up against a number of other converters, and most were left totally in the dust. The best of the rest all had trouble keeping up; so XMedia Recode is just about as fast as it gets.
Conclusion
The XMedia Recode is like a Swiss army knife. You can use it for simple operations or you can dive into the numerous tools and tweak the output to fit your need.