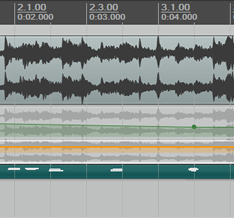 Without a soundtrack, Hitchcock wouldn't have the scream, horror wouldn't levitate the audience from their seats and the Good the Bad the Ugly would just be 3 undecided guys sweating in a hot dessert graveyard
A good soundtrack can set and alter the pace and the mood. It can increase the tension and give the viewers a concluding reminder of what they've seen. So the importance of an interesting soundtrack should never be underestimated, and you should be as careful planning the soundtrack as planning the recording and cutting the video clips.
With your typical video editor you'll be able to change things like the dB, you can equalize the original audio, make a speak-over, run filtering and add music, but that's about it.
If you want to get serious, you'll need to record or mix the audio yourself, and fortunately, you can do that at practically no cost at all.
The audio tools
So, let's take a look at these tools
Reaper

Reaper is a $60 DAW (Digital audio workstation)
Create a soundtrack in Reaper – Intallation, Record and Edit

Audacity, LMMS and MuseScore

Create a soundtrack using the free
Audacity (Editor)
LMMS (DAW)
MuseScore (Notation)

Soundbanks, effects and instruments plug-ins (VST)

Use free Soundbanks and VST plug-ins (effects and instruments)
Here are some of the free ones (as in no money):
Free VST (Virtual Studio Technology) plug-ins
And here are some great sites for finding an instrument, an effect or a synth: