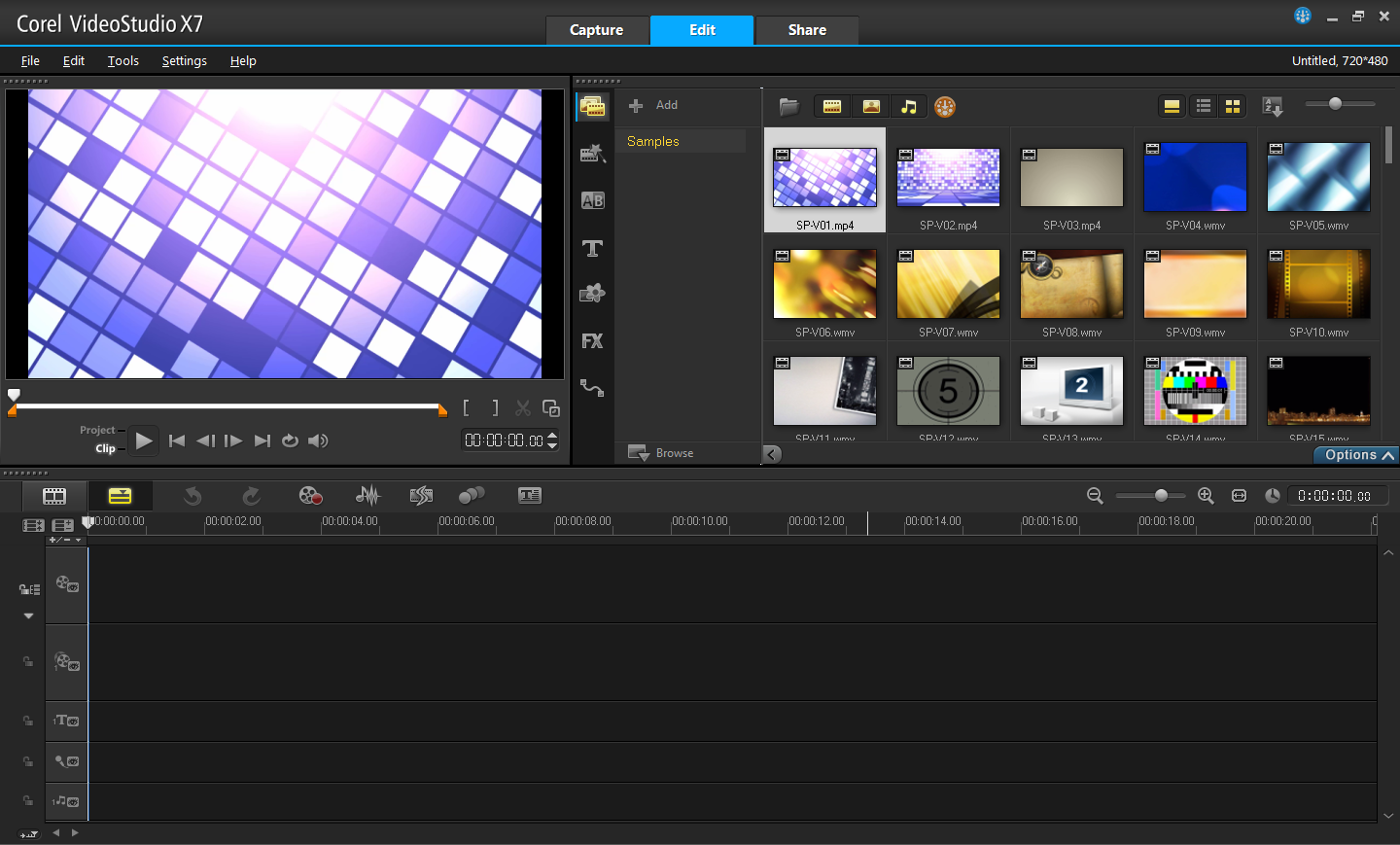 (Page 1 of 2)
I've been using VideoStudio for more than a decade; so the program is a long time favourite of mine.
With a relatively low learning curve it's always been an easy recommendation to people with little prior experience in video editing. At the same time, the number of formats and codec out of the box has always ensured that you would be able to import and export almost anything. Most noteworthy though, VideoStudio lacks support for H.265/HEVC video compression standard and for the open and free Matroska (MKV) and ogg container-formats.
Installation
Installation from the 840 Mb installation-file occupies 1.6 Gb on the hard drive. However, Corel recommends that you keep the 870 Mb installation folder; so the total requirement would be about 2.47 Gb + the original installation file, which means that you're looking at a total disk usage of close to 3.31 Gb.
To that end, the installation procedure would benefit from an option to tidy out unnecessary and unwanted items. Like the folders, user guides etc. in no less than 7 languages. When you install VideoStudio you can actually pinpoint the geographical location, and in my case, as a Dane, I don't really need language files for Japanese, Chinese etc. However, the 6 left-over languages still consumed more than 250 Mb of disk space on the system drive.
My intention was to test both the 32-bit and the 64-bit version, however neither the 64-bit version nor the 32-bit version of VideoStudio Pro X7 would install on my 64-bit system. A few seconds into the process the installation came to an abrupt halt. Apparently I'm not the only one with that problem.
In VideoStudio Pro X6 I experienced a disappointing lack of responsiveness with clips on a 64-bit system – no problem on a 32-bit system. The same has been reported for the X7, but whether the present installation error stems from general difficulties with the Windows 7 64-bit structure or from the installation file itself, only Corel can tell.
Performance
I installed VideoStudio Pro X7 on a lower-spec 32-bit PC, and considering the specifications, VideoStudio ran smoothly, and in most cases VideoStudio Pro X7 rendered the video at an acceptable speed. The exception would be the rendering of webm-files mentioned below.
When assessing the performance of a program, a big part comes down to the ability to optimize your workflow, and as always it's easy to find your way around VideoStudio.
Features in VideoStudio Pro X7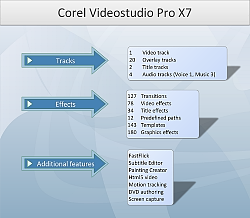 VideoStudio has always attempted to include the most resent video technology. In some cases they might have jumped the gun a bit, but then it's nice to have at least a taste of future technology.
FastFlick – New feature
It's a bit of a stretch to pitch FastFlick as a new feature. It's new compared to the X6, but in Ulead VideoStudio 11 (From 2007) the program included a Movie Wizard where you could: "Quickly make your movies with theme-based templates". Corel's pitch for FastFlick is: "Create movies and slideshows in three easy steps!" - "Spend less time editing and more time sharing." – Sounds more like a reinvention of an old feature.
In any case, The Movie Wizard was abolished by Corel - Probably because they figured that customers wouldn't pay good money for a competent editor, just to take the easy way out and produce template-based videos.
Rather than focusing on this ultra simplistic approach with only 4 pre-made templates, VideoStudio should provide more material for the use in VideoStudio projects. The ones included in the Instant Project are fine, but they pale in comparison to the 500,000 frames, backgrounds etc. provided at DirectorZone for the PowerDirector ao. I guess, one could use some of those in a VideoStudio project, but that would hardly be fair ;)
Motion tracking
One of the newer features in VideoStudio is the ability to track an element in the video and to make a text-, graphic- or video-overlay that follows the element. On the whole this is a really neat feature.
Motion tracking has 3 parts: Track Motion, Match Motion and Customize Motion.
In Track Motion you can create an automated path for the object in your video. The Track Motion can be used to ex. disguise the number plate of an approaching car. However, since there's no keyframing, the square mosaic stays the same size whereas the number plate of course increases in size as the car approaches.
Fortunately, this can be achieved with a graphic- or video overlay in Match Motion / Customize Motion, where you DO have access to key framing. If you need to obscure the identity of a source, this might also provide an improved security where reverse engineering is rendered impossible.
The ideal solution would be that you were able to draw a lasso-mask around the object, to key frame it and to choose the effect and transparency for the masked area. At the same time there's no reason to divide Motion into 3 parts. It would be a much easier task if the 3 were combined into one dialogue box.
Chapters
If the end target for your video-edit is a DVD/BR, you can add chapters during the editing on the timeline. This method is way easier than adding the chapters during the DVD-creation. Unfortunately you can't ad chapters if your end target is ex. a single mp4-file. You'll have to use a program like the free XMedia Recode to do that.
Page 2: Features, Filters and Verdict