(Page 2 of 2)
Ultra HD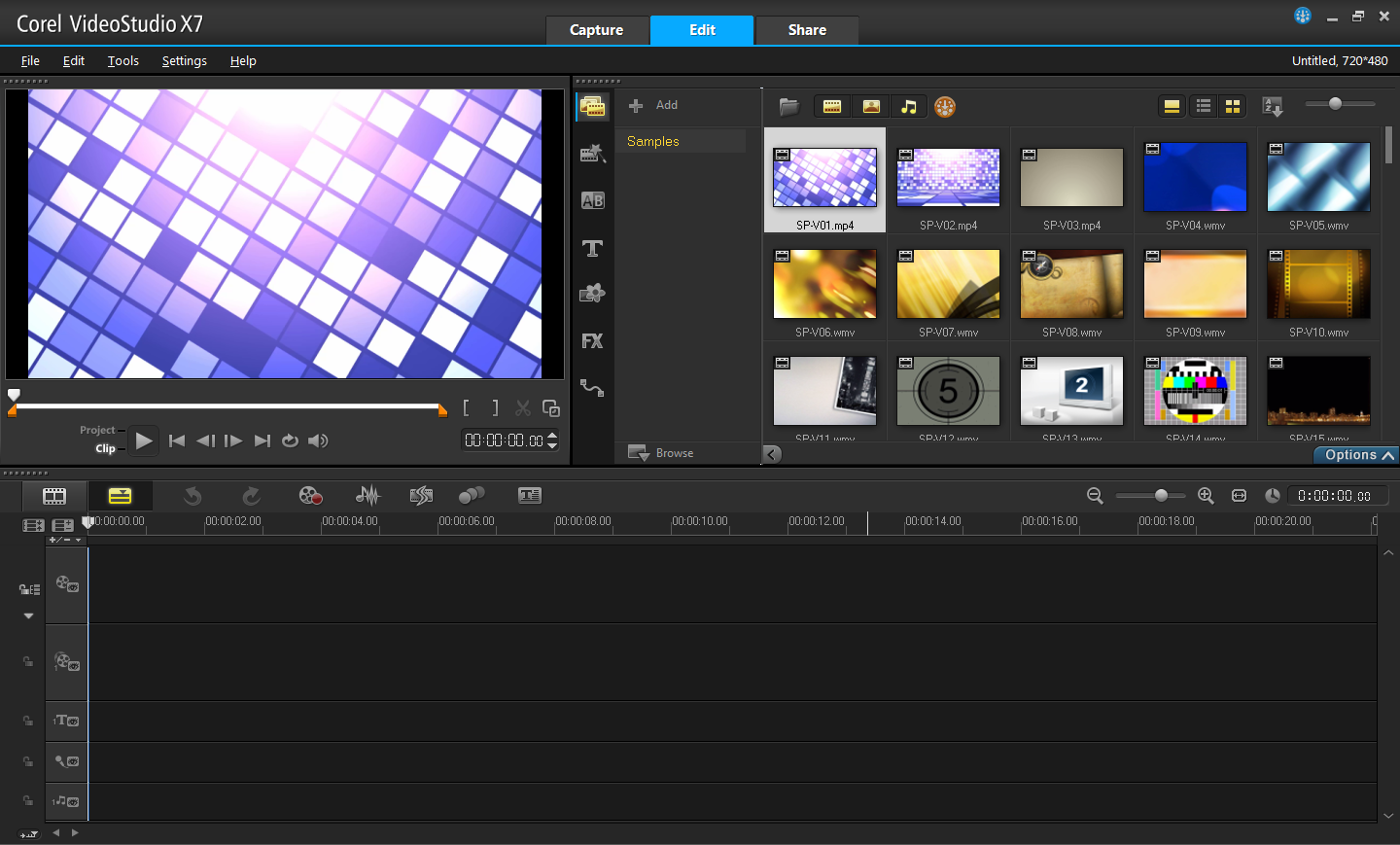 Some of the specifications for the Ultra HD are:
Resolution: Minimum 3840 x 2160 pixels
Frame rates: 24p/25p/30p/50p/60p
Aspect ratio: 16:9
Unfortunately, HDR (High Dynamic Range) including the BT.2020 recommendations for picture quality didn't make it to the Ultra HD specifications. Beside more than doubling the colour space and allowing for frame rates up to 120p, the BT.2020 also includes a massive improvement in color depth:
Standard
Colors
Number of colours
BT.709 (Present)
8-bits
16 million
BT.2020
10-bits
12-bits
1 billion
68 billion
It'll take some time before the HDR / BT.2020 standards go mainstream. Until then we'll basically have to make do with just a larger picture rather than better pixels. It will be interesting though, to follow the development of the Dolby Vision, the 8K Super Hi-Vision and others
4K
The name 4K indicates a shift from vertical to horizontal pixels. Prior to 4K, the image size was referred to by the number of vertical pixels, ex. Full HD as 1080p. But with 4K it's suddenly the number of horizontal pixels. Well, I guess 4K sounds better than 2K ;)
Anyway, VideoStudio Pro X7 delivers on both fronts. Both the Ultra HD and 4K. So you'll get:
| | | | |
| --- | --- | --- | --- |
| | Resolution | Frame rates | Aspect ratio |
| Ultra HD - 2160p | 3,840 x 2,160 | 25p and 50p | 16:9 |
| 4K | 4,096 x 2,160 | 25p and 50p | 19:10 |
| Ultra HD - 2304p | 4,096 x 2,304 | 25p | 16:9 |
Subtitle Editor
The Subtitle Editor was introduced in VideoStudio Pro X6. It's limited to one clip at a time; so it's probably most useful if you are working with one continuous track.
The editor includes a waveform view of the audio, a formatting tool to adjust the font, size etc. of the text, and a "Voice Detection" tool to automatically detect subtitling segments.
Once you've added subtitles, they will appear on a title track; so any after editing will have to be performed on that track.
The fact that the feature is limited to a clip rather than to the project means that in most cases I would prefer to add subtitles manually with the normal title feature.
Screen Capture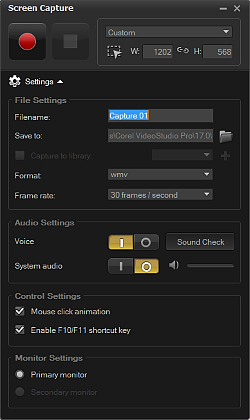 The screen capture feature was introduced in the X5 version, and it's still a valuable addition to VideoStudios' long list of features.
The Screen Capture hasn't got the bells and whistle of the $299 Camtasia, but it's easy to use and adequate for basic screen recordings.
Painting Creator
This nifty little dialogue box allows you to create animated drawings on top of the video. It's especially useful for instruction videos. You can use it to draw the attention to an object in the video by drawing a circle around it / an arrow towards it, to illustrate a travel route or even to create an old fashion "tracking-paper transition" from an animated drawing to a picture / video.
You only have control over the size, form, color and style of the brush; so it's extremely basic. It would have been nice if Corel ported some of the drawing tools from their CorelDRAW / PaintShop Pro.
Html5 video
One of the intentions with html5 was to provide a simple way to post video and another intention to provide support for advanced animation techniques. However, VideoStudio Pro places itself squarely in the middle. It's too complex for an easy edit, and yet it's too simple to support advanced coding techniques; so when this feature was introduced in the X5, the inclusion seemed to me more like an experimental afterthought rather than an introduction of a new useful feature.
From the get-go, the html5 video-feature has suffered from these limitations:
It has an overcomplicated output.

The html5 output produces a total of 21 files (2 video, 2 html, 4 CSS, 2 png and 11 javascript).
Not exactly an easy edit for the average consumer.

It's not a part of the general share button

You need to start by going to the file menu to initiate a html5 project

There's no path-editor or motion track.

The output is limited to 3 modes:

Two SD modes - 4:3 or 16:9 (640 x 360) and one HD mode 16:9 (720p)

There's no option to adjust the Audio data rate

The audio will be stuck at around 96-128 Kbps.

It has an extraordinarily slow encoding.

A 15 sec. mov-clip took 9 minutes and 13 seconds to encode into 720p.
As for the encoding time, I suspected the culprit to be the rendering of the Webm format; so I encoded another mov-file (Duration: 1 minute 17 seconds - Video: Full HD, 29.97 fps, AVC - Audio: ACC LC, 192 Kbps, 48 KHz).
The encoding time to a single webm-file was 1 hour 9 minutes, which is more than 50 times the duration of the clip.
The same conversion done with the excellent, free XMedia Recode took 2 minutes.
So before you start rendering a 30-minute html5-project you just might want to consider skipping the webm-file and letting another program do that part of the encoding.
Transitions
VideoStudio Pro X7 operates with 2 sets of transitions. One set for the video track and another set for the overlay track(s).
On the video track you have access to 127 different transitions. On the overlay track(s) you're down to 40 transitions. This difference is due to VideoStudios' distinction between the video track and the overlay tracks. So if you need a PIP-overlay with a transition that is not included in the 40, you'll have to pre-produce it on the video track in a separate project, then save it, and import it to an overlay track in your actual project. That can be somewhat time-consuming.
When you're working with transitions you should also be aware that if you drag and drop transitions in Story Board View, it will affect the time signature of the subsequent clips. You can avoid this by using the alternative way: To drag and drop the transitions in Timeline View while holding down the ctrl key. Unfortunately, the transitions then won't show up in the Story Board View.
Although the transitions on the whole are excellent, I miss some consistency and a greater level of control over the placement – And maybe it's time to simply operate with 21 video tracks.
FX Filters
The FX filter-section in VideoStudio Pro X7 includes all 10 effects from "Video Essentials I" from NewBlue together with 4 separate effects from the same company.
Other than that, you'll find a collection of VideoStudio's own effects; so with a total of 69 filters (If you discount some duplets) you should have enough filters for most purposes.
However, the interface of VideoStudio's own effects hasn't changed very much over the last decade; so they all look and feel somewhat dated, and by today's standard, they are not all that user-friendly. Maybe Corel should take a closer look at how the free Lightworks video editor presents their Color Correction .
As always, the overall performance and the basic editing tools in VideoStudio are excellent. But the plethora of features and the occasional lack of attention to details, makes Corel VideoStudio Pro X7 act more like a Jack of all trades rather than an expert.
Over time, I have recommended VideoStudio to numerous people, and I would have loved to keep on doing so, but considering the installation problem in VideoStudio Pro X7, it's a hard sale.
My advice would be that you download and test the 30-day trial. If VideoStudio Pro X7 works on your PC, it's still one of the top contenders on the consumer marked. If you're considering a purchase and you're working from a 64-bit PC, you should definitely take a closer look at the Ultimate version. It's packed with add-ons from NewBlue, Boris Grafitti and proDAD that far exceed the extra price tag.
Personally, I don't consider VideoStudio Pro X7 to be a major upgrade. It's 64-bit, but that didn't work for me at all. The new FastFlick is hardly a new idea, and the changes to the workspace / interface etc. are IMO neglectable.
Instead of playing catch-up, Corel should have done like Ulead did back in the 2007 VideoStudio 11.5+ version where they licensed the H.262 (AVCHD) from MainConcept. Today Corel could license the H.265 (HEVC) codec from MainConcept - CyberLink PowerDirector 13 already has support for both the H.265/HEVC and for Sony's XAVC-S 4K standard.
The HEVC would fit nicely into a VideoStudio Pro X7.5 version, which at the same time could give Corel time to remedy the installation issues in VideoStudio Pro X7 ;)